Father Mountain
Beekeeping in the mountains of Azerbaijan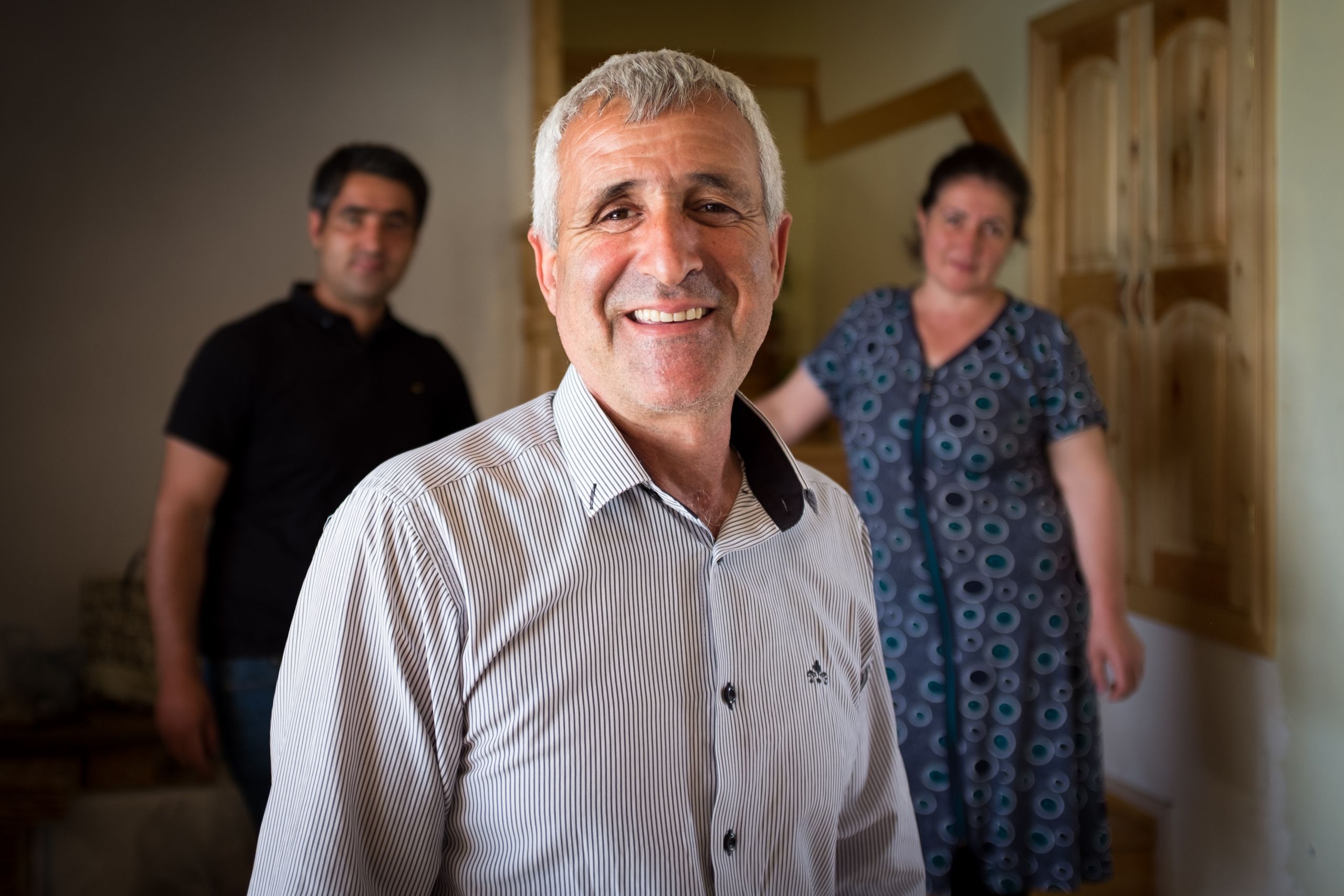 Ogtay Ganiyev finds it hard not to live in the mountains.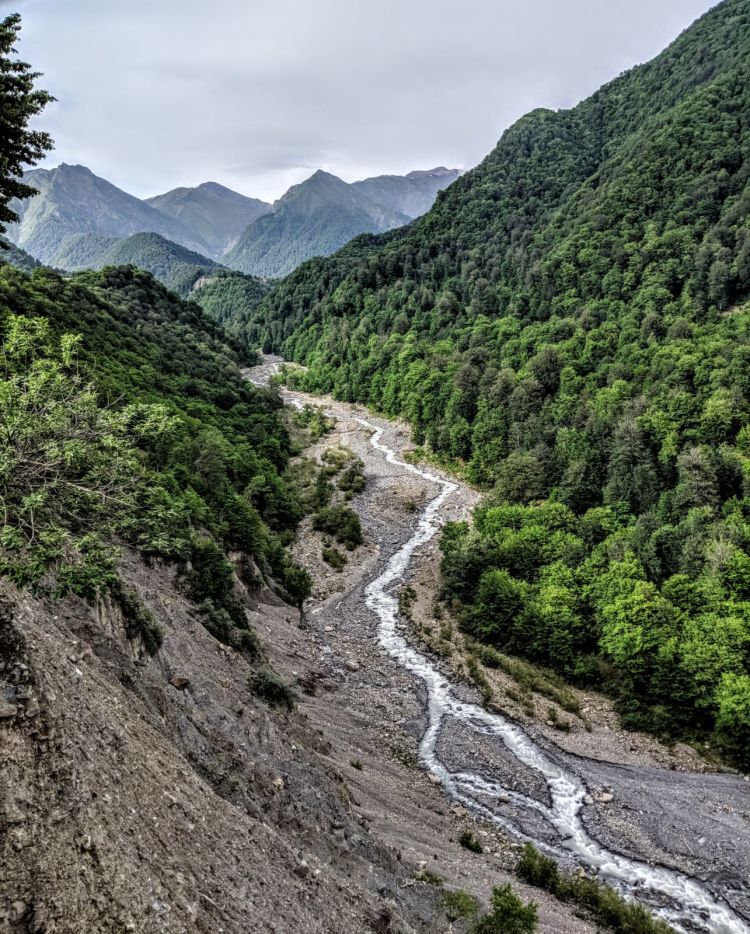 Ismayilli State Natural Reserve, near Qalacıq village of the Ismayill region in Azerbaijan
'These people are simple, honest and hardworking. From birth the mountains are my home. If I don't see them, I am missing them'.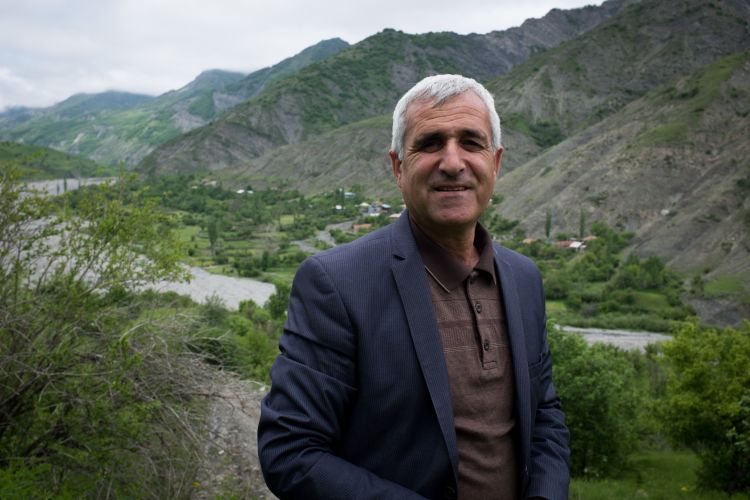 Ogtay Ganiyev, Beekeeper and father, Burovdal, Azerbaijan
Ogtay fondly remembers skittering around like a mountain goat as a youth in his remote village of Burovdal, in Azerbaijan's Caucasus Mountains.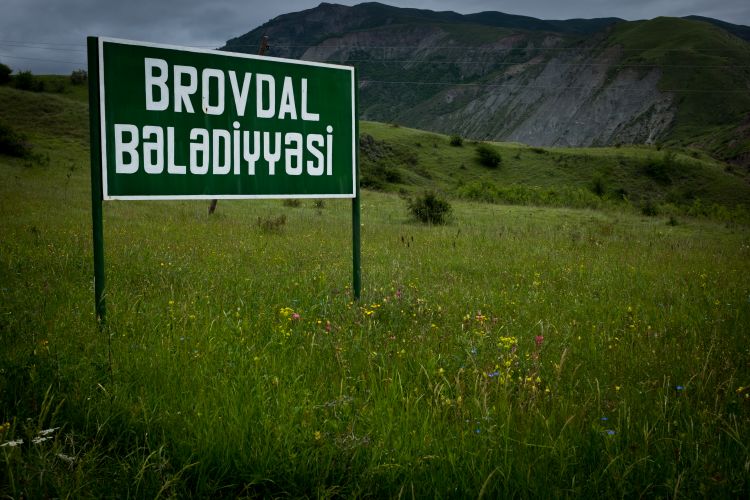 It definitely requires caprid sure-footedness to reach Burovdal, which is serviced by a single road so small that it looks more like a small driveway behind a tea shop.

Upon arriving at Burovdal, at the foot of Babadag, one of Azerbaijan's tallest mountains, one is treated to breathtaking 360-degree views over some of the most stunning mountain landscapes in the region.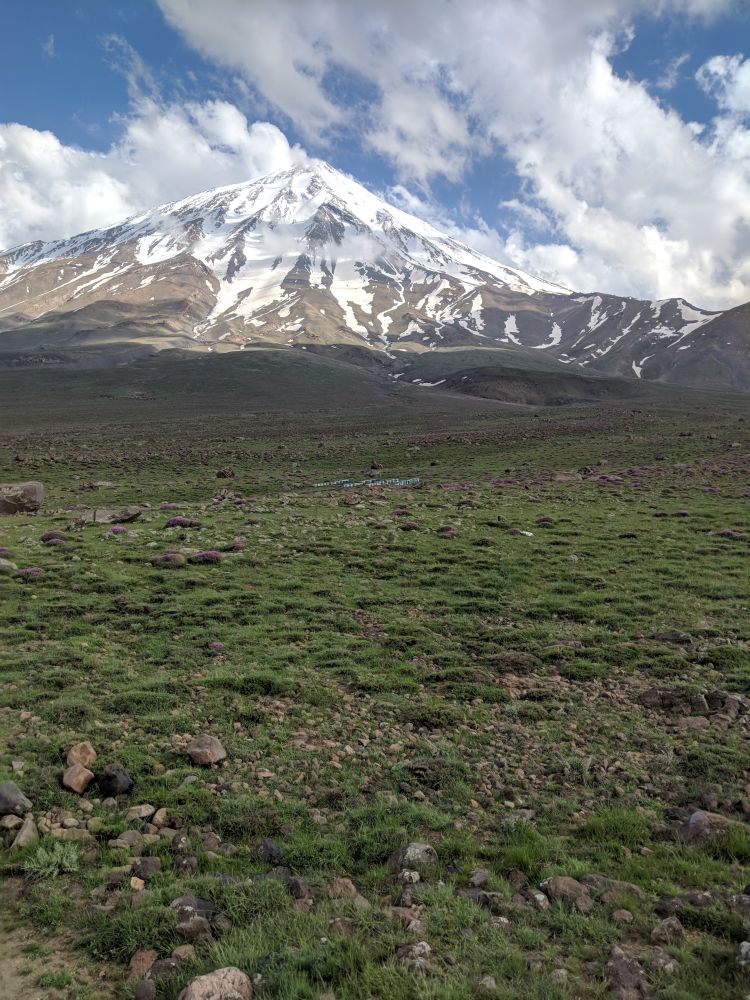 So when Oqtay was asked to choose a name for his honey, he didn't hesitate: Babadag.
'Babadag' is a name with particular resonance throughout Azerbaijan; it means 'Father Mountain', and has a reputation as a place where climbers' wishes come true. Now, the name of Oqtay's honey brand is the reflection of his own dream-come-true experience linked to the expansion of his family honey business.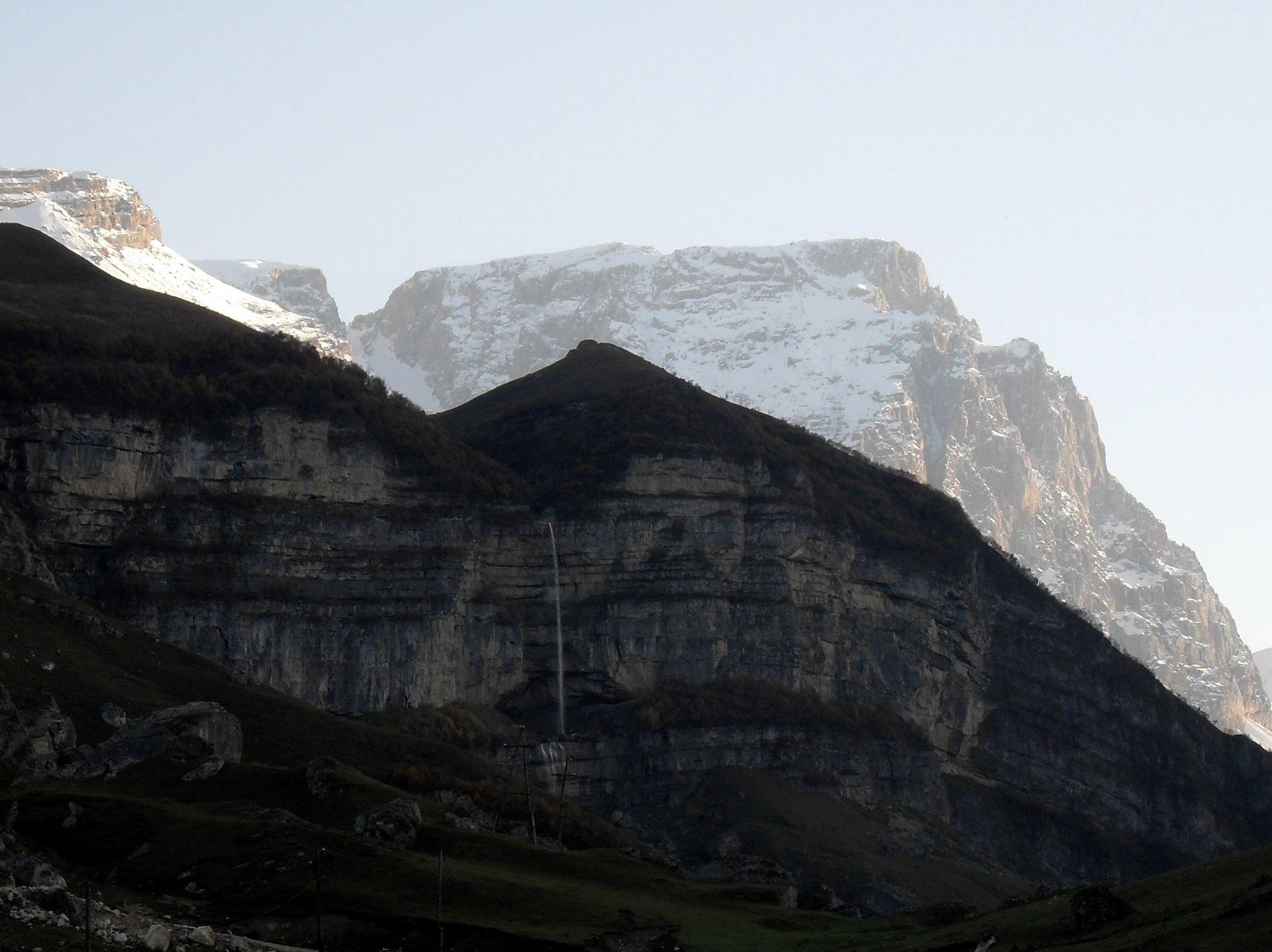 Connecting Rural to Global
Households in the farmland regions of Azerbaijan use their pastures and forests for a broad array of agricultural activities, such as cattle breeding, honey production, wild plant foraging, and production of home-made berry and fruit juices. Many of these resources come from the commons.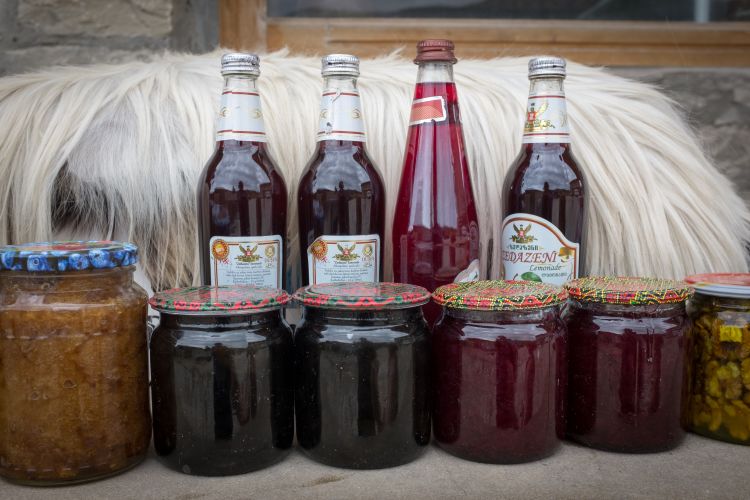 Home-made berry and fruit juices for sale in the Lahıc village market
Unfortunately, rural families face serious constraints in monetising their products, including distribution and delivery of their products to a wider range of customers through large retail chains.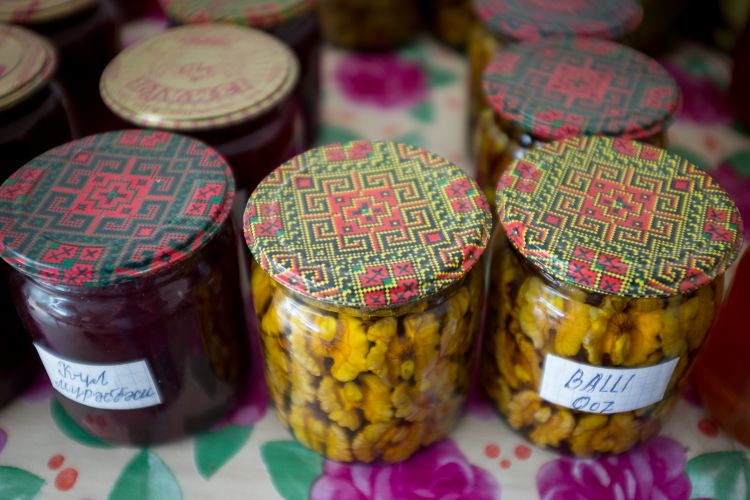 Compounding the difficulties in bringing products to market, a lack of certification processes and marketing skills impact the competitiveness and profitability of family businesses.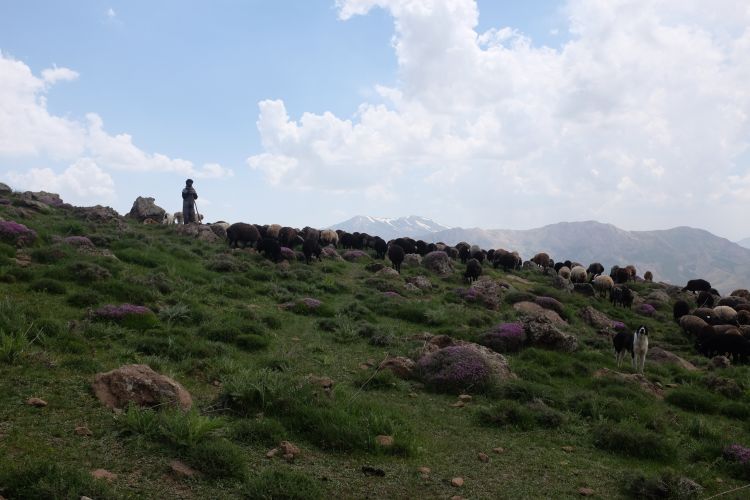 Faced with the stiff challenges of maintaining their competitive advantage in local retail, the rural communities of the Ismayilli and Shamakhi regions continued to rely on simple animal husbandry as their primary source of income.
One consequence of this heavy dependence on cattle breeding was overgrazing, which is the primary condition that the GEF-funded Sustainable Land and Forest Management in the Greater Caucasus landscape (SLFM) project has been working to address.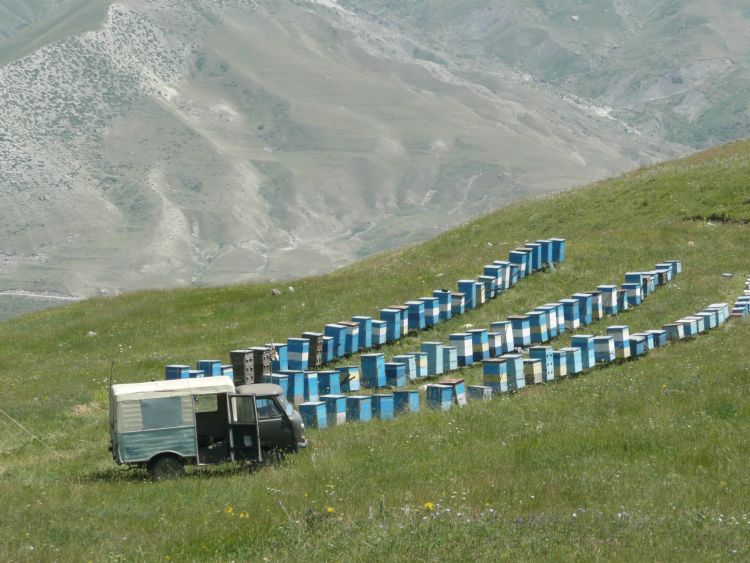 To decrease the reliance on cattle, the project supported alternative livelihood options – like beekeeping. In partnership with the Ministry of Ecology and Natural Resources, and through ABAD (Azerbaijan State Agency for Public Service and Social Innovations - Support to Family Business), the project offered small holder family businesses new avenues for broadening their economic pursuits and delivering locally-produced goods to the market.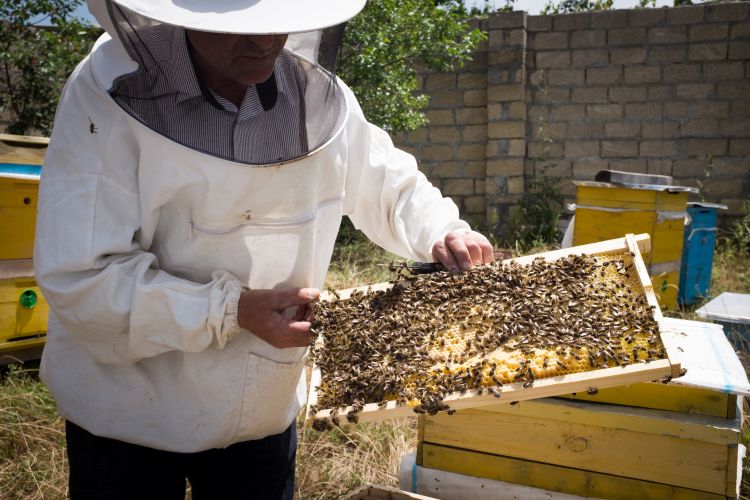 Through the project, 16 families received integrated business support. With support from UNDP and ABAD, these family businesses have received critical equipment upgrades and have become officially registered businesses, complete with six newly-certified brands.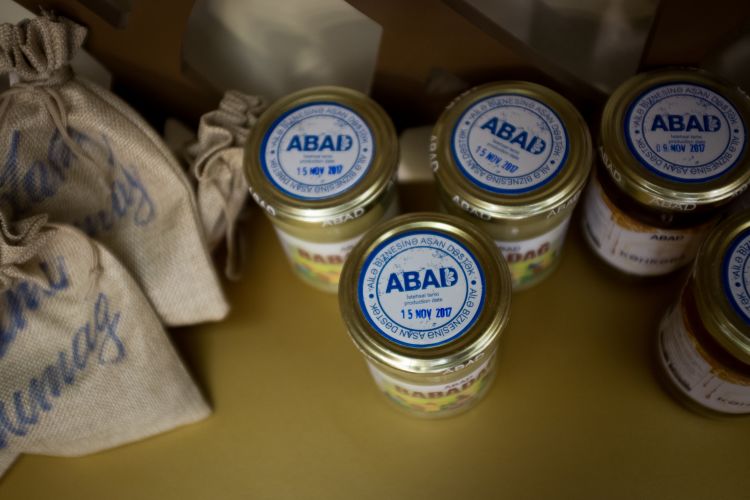 Additionally, through ABAD's wide range of sales and distribution channels, these families will continue to capitalise on their produce not only within Azerbaijani markets, but internationally as well.
At present, six honey brands that are produced within the framework of the SLFM project are stocked by both the ABAD handicraft stores and the Bravo hypermarket chain.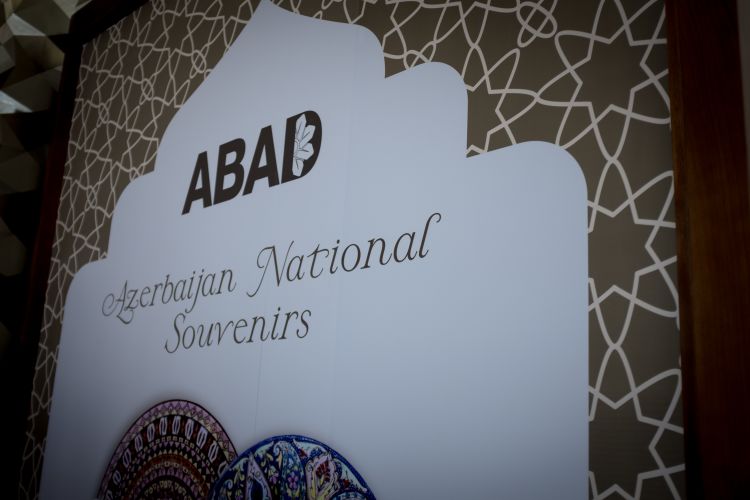 ABAD's role included assistance with legal compliance for health and safety requirements, logistical and equipment support, quality control throughout the value chain, identification of opportunities for expansion and scaling up of production, highlighting certification schemes (e.g. organic or fair trade labelling) for added value, training to families and communities on technical and legal requirements, development of product names and branding, and laboratory analyses for quality control and certification requirements.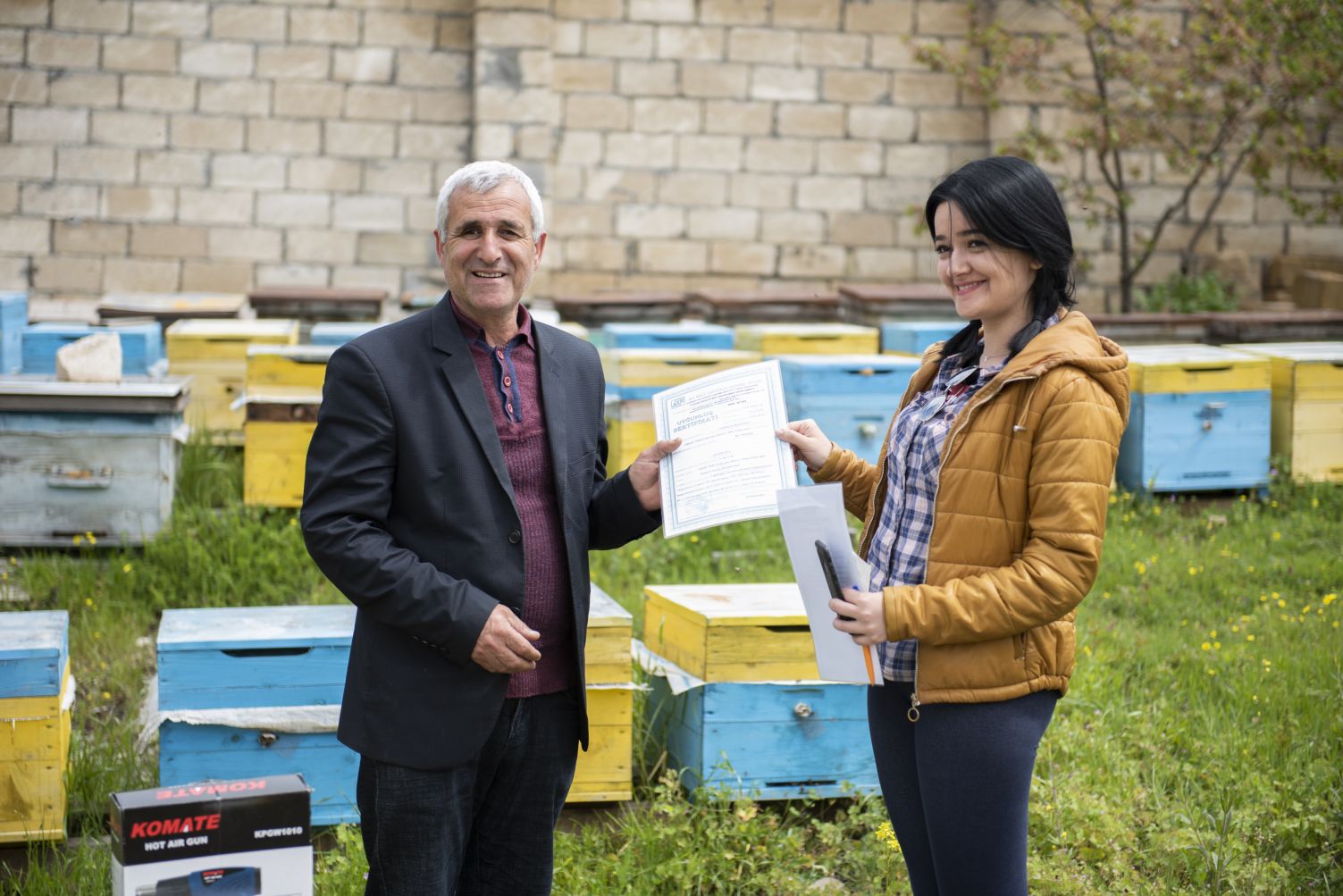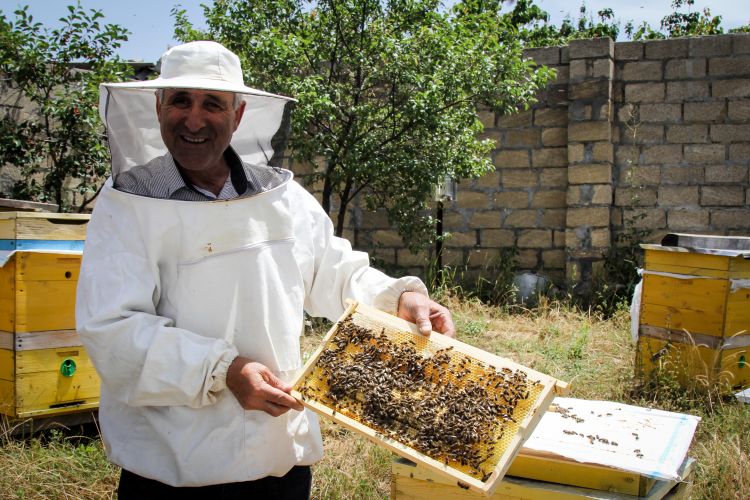 Oqtay proudly displays his thriving hive
What's in a name?
'Only a few months ago we thought that there was no point in expanding our farm, because we had no access to the market and if we produced more honey, we wouldn't have been able to reach out to potential buyers. That is why we gave up on the idea and continued making honey only for our family – enough to meet the household need. A few months later though, with help from UNDP and ABAD we started our very own honey brand called Babadag'.
'As our business is growing, we have now reduced the number of animals we normally kept,' says Oqtay. 'We no longer feel that we should necessarily depend on cattle breeding that much, as we get more profits by producing and selling honey'.
Zahid Mammadov, a beekeeper from the Ehen village in Ismayilli concurs:
'Throughout several generations, our family was engaged in beekeeping. But this was not enough to support us financially, and we had to use other means of income-generating activities, such as cattle breeding, in order to be able to meet the family's growing needs. When the news reached us that UNDP and ABAD were organising community groups to help promote local business practices, we contacted them right away and started our co-operation. Consequently, we were able to create a new brand name for our century-old family trade, and now we are getting ready to distribute high quality honey to the markets in Baku."

According to initial estimations by ABAD, each family will earn around ≈USD$234-$350 per month during the first farming season for the honey products sold through ABAD distribution channels, with a dramatic increase in the following year.
The foreseen spike in profits is expected to start as ABAD initiates the first round of international exports of its honey products. In addition to economic benefits, the connections to national markets also serve to decrease the isolation of remote villages. UNDP estimates that through additional distribution beekeepers may earn ≈US$1000-1500 per month.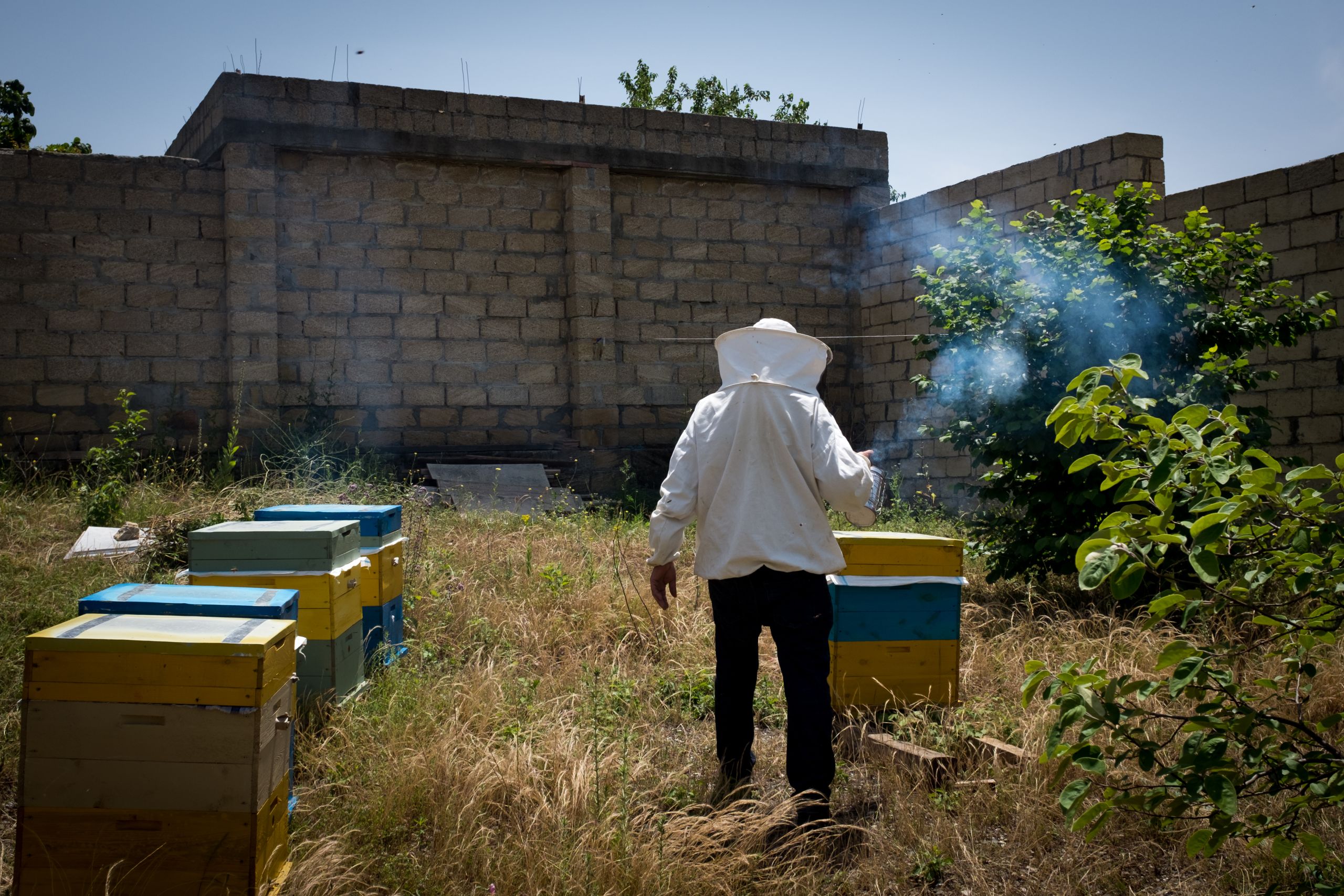 Maximum Efficiency
With project support, new co-operatives were provided with specialised equipment, including hive tools, bee gloves, frames and boxes, among other beekeeping supplies.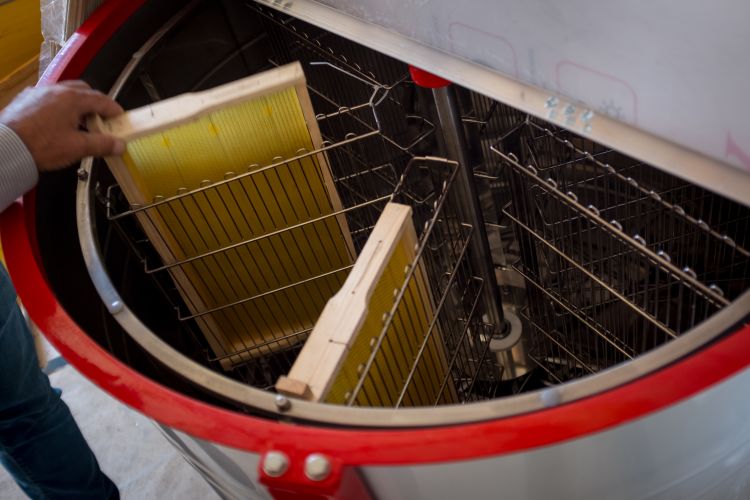 One useful piece of equipment that the project provided is a honey extractor - a machine that spins to use centrifugal force to extract honey from bee combs without damaging them. 
To diversify income streams, bee hives with pollen traps produce pollen, which is further supplemented through wax production through the project-provided wax processing machines.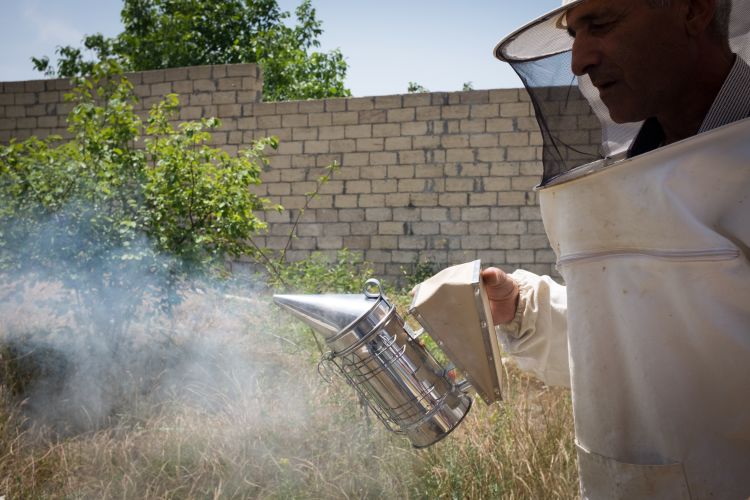 Additional beekeeping supplies included a smoker; a tool used to calm the bees.
The additional equipment maximises efficiency, increases quality, and is ultimately more economical since wax sheets for hive frames no longer need to be imported from far afield.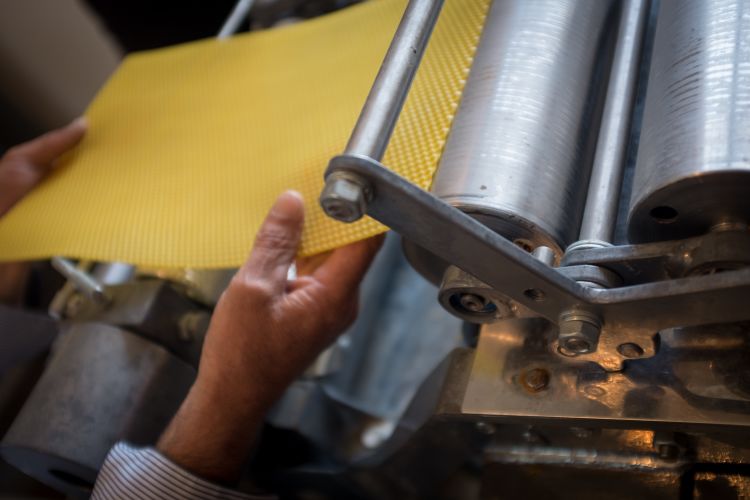 The wax processing machine allows Oqtay and his community to save money and productively use the beeswax that would otherwise be discarded.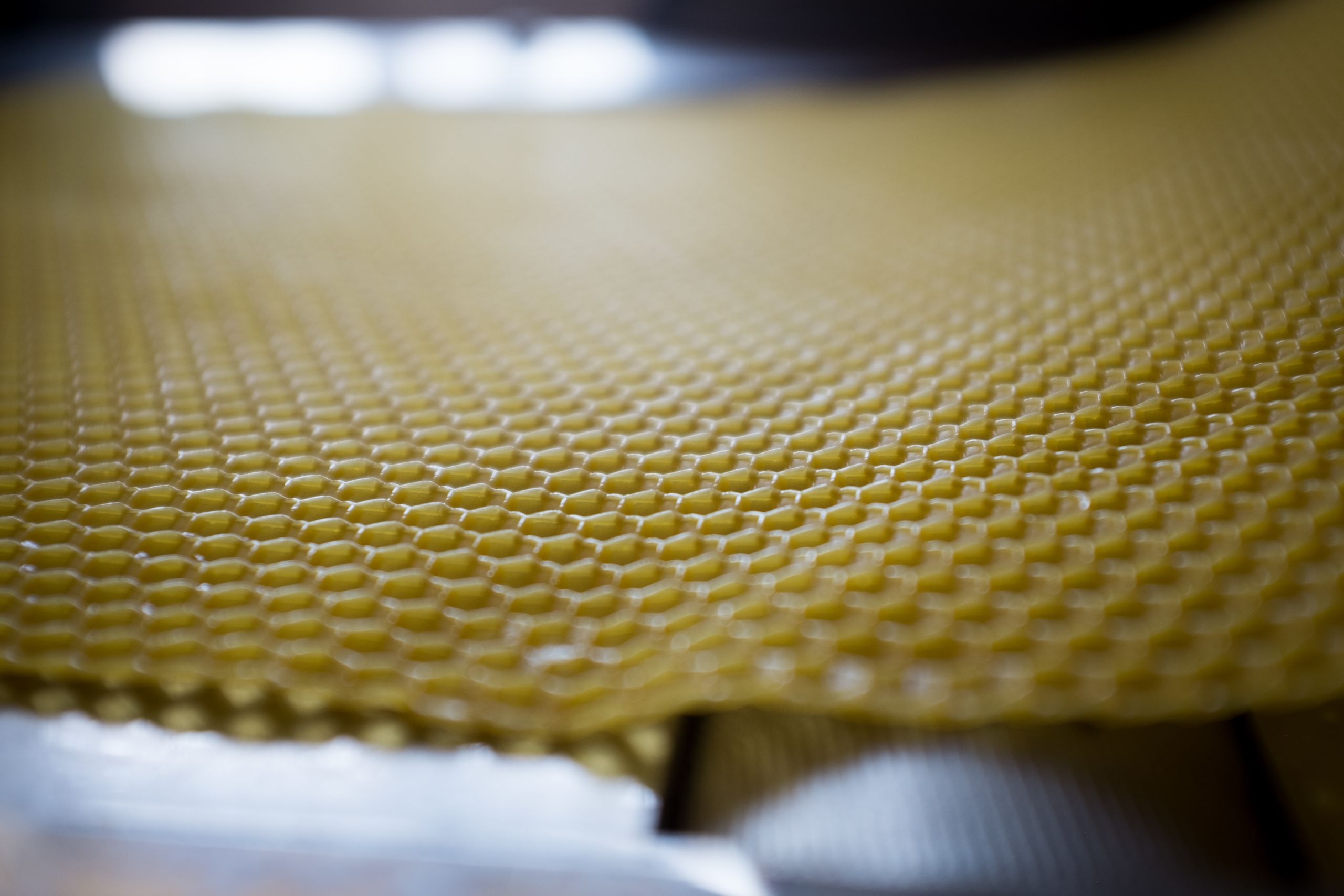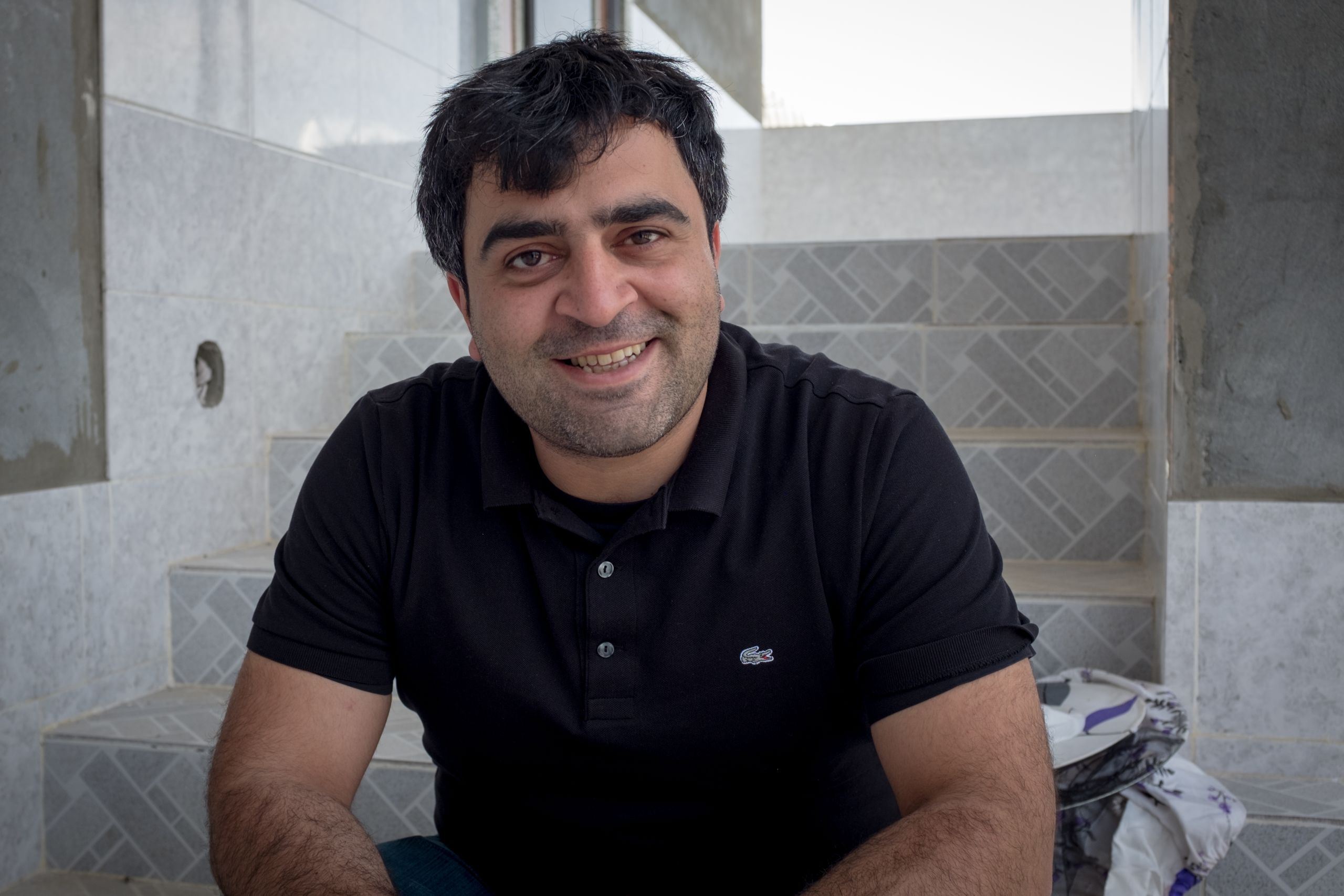 "To me, the best part of this project is in its ability to transform the lives of ordinary people. The social factor, so to speak. In the past, rural farmers were heavily dependent on cattle breeding as their only source of income, but now they have learned how to make a living by doing a less labour-consuming job than before. By helping communities explore opportunities within the agricultural sector, it's fascinating to see people becoming happier and the planet greener."
Blossoming Mountain Potential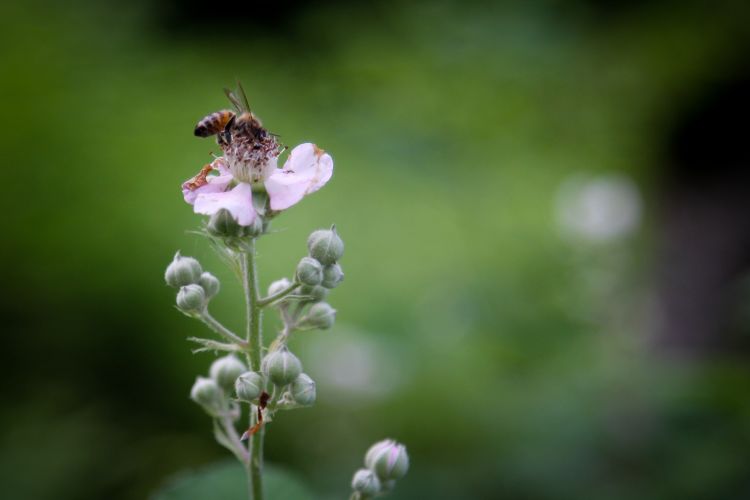 In the mountains surrounding Burovdal a broad array of flowers bloom from May – September – dotting the countryside with delicate splashes of color. Diverse flowers change week to week. High mountain flowers are known for their high fructose content and resulting flavourful honey.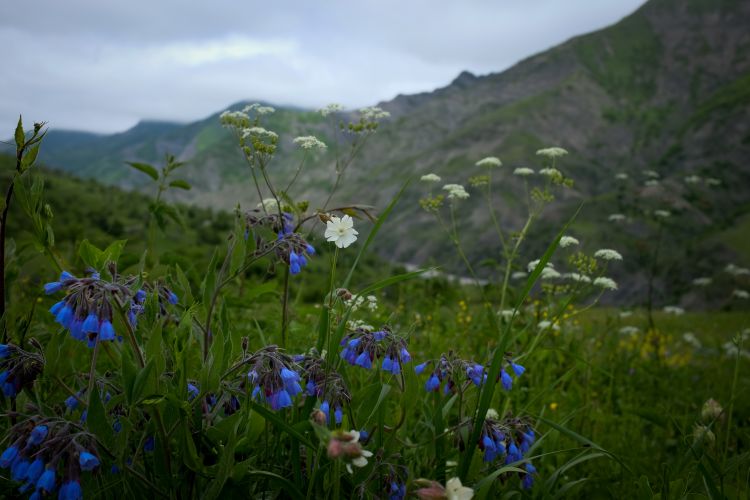 New flowers blossom every few weeks
The protection of the local flora is imperative for the successful and sustainable production of selected products. As part of project-supported activities, 200 hectares were planted with seeds that help limit erosion and help the bees thrive.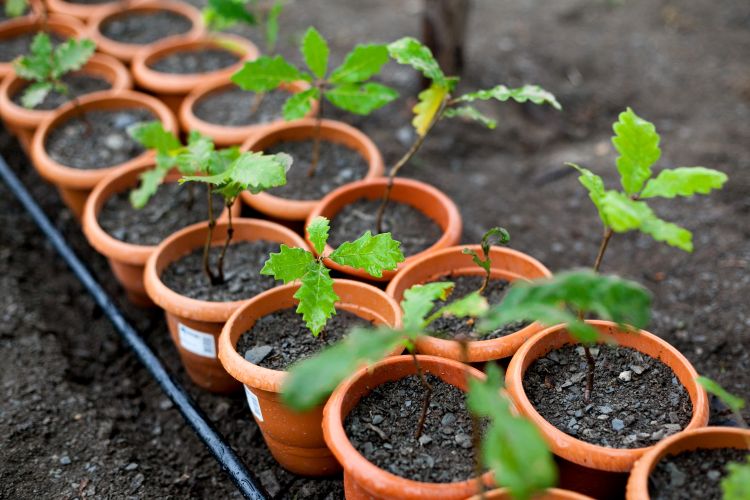 Five further families in Oqtay's small community have also shifted to beekeeping rather than the intensive and destructive livestock overgrazing. Additionally, beekeeping as a viable industry helps to stem outmigration.
Oqtay proudly notes: 'My son used to work at a factory, but now he's come back. Helping and learning'.
The project assisted communities in the high mountain villages of Ismayilli and Shamakhi, primarily farmers and pasture users, to access alternative sources of income and reduce their pressure on pasturelands.
The result of this joint intervention is that villagers now have the required skill sets to sell their products throughout the wider domestic and international markets.
For more information on the project, view the Sustainable Land and Forest Management in the Greater Caucasus landscape project profile.
For more information on ABAD, visit here.
Story by Andrea Egan, David Angelson, Arzu Jafarli, Zaur Aliyev, Eltekin Omarov / Photos: Andrea Egan for UNDP Azerbaijan and Elgun Alizade and Elkhan Ganiyev for ABAD
Location: Shamakhi Region and Ismayilli Region, Azerbaijan